Petty Officer Efficiency Medal
History
Unless someone can correct me it is understood that, in 1919, a retired Royal Navy Surgeon expressed his desire to donate a sum of £100 anonymously for the purpose of striking a medal. This was to be awarded to the member of the Sick Berth Staff who had shown the greatest zeal and efficiency during the previous year.
Although outwardly a simple request, their Lordships at the Admiralty, the Master of the Royal Mint, the British Museum and the Victoria and Albert Museum were all consulted. By August 1919 the announcement of the Sick Berth Stewards' Efficiency Medal has been published in Admiralty Monthly Orders and all aspects of the award resolved with the exception of the design. A further cheque for £100 was received later that year, and because of the loss of the original cheque, a third was forwarded in January 1920. In July of that year, working models of the medal were forwarded to the Mint.
In August, however, the title 'Sick Berth Steward' was changed to Sick Berth Petty Officer and new models took a further six months to obtain. Delays in production ensued and the first medal was eventually awarded more than two years after the benefactor first wrote to the Admiralty. Problems concerning the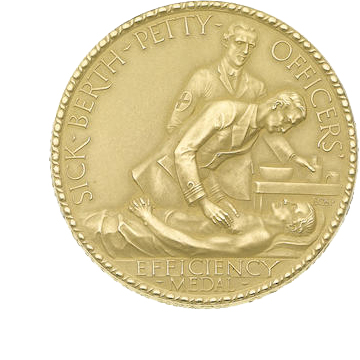 cost of the medal and investment of the balance of funds to provide an annual income dogged the Admiralty throughout and it was not until August 1922 that a solution was found.
The first recipient of the medal was Ernest W. LOWE (351127) on 1st Jan 1920.
I think it worthy to dedicate a page to listing the recipients of this medal (see below). Any recipient of the medal who has a story to tell relating to the year that they were awarded the medal should contact the Editor of the Doc RN, please.
APPEARANCE – The Sick Berth Petty Officers' Efficiency Medal is a gold medal struck and gilded by the Royal Mint. Following the issue of a Defence Instructions & Notices (DIN), it is awarded annually to the Petty Officer Medical Assistant / Sergeant Royal Marine Medical Assistant who demonstrates exceptional zeal and efficiency in the discharge of his/her duties during the preceding year.
The older generation amongst our readers may have noticed the title of Sergeant Royal Marine Medical Assistant in the paragraph above and may wonder what is going on!! Loblolly Boy to SB Steward to SBA to MA and now RMMAs?? It is interesting to note the change in nomenclature used along the way.
Article by Les YEOMAN, National Vice Chairman of the Royal Naval Medical Branch Ratings & Sick Berth Staff Association (RNMBR & SBS) and an ex CPOMA (May 2015)
SICK BERTH PETTY OFFICERS' EFFICIENCY MEDAL – Awarded 1920 to 2014
| NAME | YEAR | | NAME | YEAR |
| --- | --- | --- | --- | --- |
| Ernest LOWE | 1920 | | Geoffrey MARSHALL | 1971 |
| Thomas JAMES | 1921 | | K. NICHOLAS | 1972 |
| John FORREST | 1922 | | K. BLACKSHAW | 1973 |
| Arthur MEGUYER | 1923 | | No Award | 1974 |
| Bertie HOARE | 1924 | | Brian KILLICK | 1975 |
| Frank MITCHENER | 1925 | | No Award | 1976 |
| Harry KELLEWAY | 1926 | | Malcolm SERGEANT | 1977 |
| George HEATH | 1927 | | G. HARRIS | 1978 |
| James CROXFORD | 1928 | | John COCHRANE | 1979 |
| Frank TONKIN | 1929 | | Ian BROWN | 1980 |
| Warwick CRAMP | 1930 | | Ian DOUGLAS | 1981 |
| Sidney PECK | 1931 | | Fred GERRELL | 1982 |
| John ANDREWS | 1932 | | Don CURRIE | 1983 |
| Albert GUNN | 1933 | | Tom TOMINEY | 1984 |
| Albert EARNHAM | 1934 | | Nigel WOODCOCK | 1985 |
| Cyril ISLAM | 1935 | | George BONNER | 1986 |
| William HEWITT | 1936 | | Tom McAUSLIN | 1987 1 |
| Baden WHITE | 1937 | | Karl RICH | 1987 1 |
| Albert LANGFORD | 1938 | | Rod CAIN | 1988 |
| Walter WARE | 1939 | | A.M. FORBES | 1989 |
| Walter MORNEMONT | 1940 | | Paul BARLETTA | 1990 |
| Thomas CORBETT | 1941 | | Dave CLOKE | 1991 |
| Will BURRIDGE | 1942 | | P. FITZPATRICK | 1992 |
| George CHINA | 1943 | | Dave RUSSELL | 1993 |
| Reg ANDREWS | 1944 | | A. DAVIES | 1994 |
| Robert WAINWRIGHT | 1945 | | Alan WALLACE | 1995 |
| Tom RUTHERFORD | 1946 | | Geoff TODD | 1996 |
| James DUNCAN | 1947 | | Darren PARKER | 1997 |
| Harry GAY | 1948 | | Mick BIRCH | 1998 |
| Edward GROVER | 1949 | | Kev SHORE | 1999 |
| Basil ROWLEY | 1950 | | Daz HEMMINGS | 2000 |
| Cliff ELWORTHY | 1951 | | Ian RICHARDSON | 2001 |
| Doug VAUGHAN | 1952 | | Linda FERGUS | 2002 |
| Tom BROWNE | 1953 | | D. PATERSON | 2003 |
| George MORRELL | 1954 | | N. HUGHES | 2004 |
| John BENNISON | 1955 | | Dave ROPER | 2005 |
| Charles BELLINGER | 1956 | | G. McGUIRE | 2006 |
| Joseph CONN | 1957 | | T. SMITH | 2007 |
| John HAMMOND | 1958 | | T. HAVERS | 2008 |
| No Award | 1959 | | D. MORRISON | 2009 |
| Eric WIGG | 1960 | | Tim JOHNSTON | 2010 |
| Roy ELLISON | 1961 | | Mark STENT | 2011 |
| Don FRASER | 1962 | | Nigel CORBETT | 2012 |
| John STOWE | 1963 | | Shaun JENKINS | 2013 |
| K. ELLIOT | 1964 | | Wendy FRADD | 2014 |
| G. MICHIE | 1965 | | Nick ELLERY | 2015 |
| No Award | 1966 | | Sarah HART | 2016 |
| J. SHERIDAN | 1967 | | Matthew RODWAY | 2017 |
| D. BUDDING | 1968 | | Graham KIMBER | 2018 |
| M. STRETTON | 1969 | | Marie O'ROURKE | 2019 |
| C.J. COX | 1970 | | | |
1. Two awards were made for 1987